society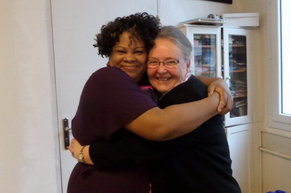 Welcome to the church
Authors: Madeleine and Bernard Huck
Translator: Louise Nussbaumer 
I was encouraged by one of my friends to come to a Sunday worship in this Mennonite assembly. I am an African woman, I don't know many people and am living in a difficult family situation. My husband has no stable job and this makes him nervous sometimes. I have five children; the youngest is a very small girl. And my oldest sons are a cause of concern.
As a church, we quickly loved this woman and shared her burdens. We gave her a paid job, maintenance of the premises.  Her home life  is hard ; her husband is violent;  Sometimes she escapes her home and spends the night on the church floor. 'At least, I have peace here', she said later.
We took care of her youngest daughter when she was away on a trip to see her family.
She is a regular at Sunday worship and attends the women's group. She drinks in the Word of God which acts in her heart and the grace of God transforms her little by little.
Her family life is better now, after the police intervened, and her husband has now calmed down once for all.
She has won hearts in the church. When someone is ill, she is worried; she chooses the verses which go straight to the heart of people. She calls up to ask for news.
Our church has nominated her for the post of deacon and she accomplishes her role perfectly.  She says that I am her 'bosom sister' and it is indeed what she is to me.
An acquaintance of mine who knows her well enough confided to me that one Sunday, as the Holy Communion was being distributed, this sister approached to give her the bread and the wine. She was deeply moved.  To God alone the Glory !
This testimony might suggest that to welcome, to integrate, to support and to induce growth throughout the years requires great art. In fact, it is very simple. You must have a heart full of compassion. Compassion is not pity, but love. Something natural, which runs smoothly, which doesn't ask questions. But above all, there is the power of God, the  'Fixer of the breach', the One who raises and gathers. The Father who makes sure his children, albeit different from one another, are able to welcome one another, understand one another  and love  one another.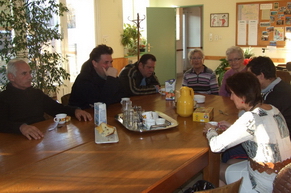 The Prairie Welcome Centre
Author: Daniel Widmer
The Montbéliard district includes Sochaux, where the original French Automobile manufacturer Peugeot is situated. Forty years ago it had a staff of 40.000 but now that's only 11.000. Unemployment in this area is high and many people find themselves in difficult circumstances.
To help out, the Montbéliard Mennonite church, especially under the leadership of Etienne Klopfenstein, took the local people in difficulties to their hearts. Initially volunteers spent the night with the homeless in a State Social Centre or helped the Salvation Army to offer hot lunches.
Creating a Centre
The church members quickly realised this was insufficient, and a new idea started to circulate; create our own Centre to accommodate some of these homeless, mainly unemployed people. An abandoned dairy was purchased in 1994 and completely restored by both building firms and volunteering church members. This Centre, situated near 'la Praire' (the Mennonite Church in  Montbéliard), is named after  the neighbourhood where it is situated. The Centre was opened in 1996, offering 26 residents temporary accommodation in studios for one or two people. The management committee was chaired by Etienne Klopfenstein until his death in 2012. One salaried staff member provides a permanent presence, and another, working with the social services, helps the residents find appropriate accommodation normally in around 6 months.
Testimony
Each weekday from 2 – 5 p.m. in the Centre's large meeting room, volunteers bring cakes and coffee and provide a friendly atmosphere in which residents can relax and share their problems.  Lionel, a past resident, but now a member of the Mennonite Church in Montbéliard shared this testimony with the members before his baptism in 2013:
I left home at the age of 18, as I wanted to live my own life. I found a job and at the beginning everything seemed fine. Unfortunately due to bad company, I became a drug addict, lost my job and found myself unemployed on the street for three years. [... ] Two people from the Centre befriended me and gave me a gospel [...]. One of the centre's weekly visitors read the Bible with me and taught me about God. I then realized that there was a solution to my aimless life. God loves me as I am: this is revolutionising my life.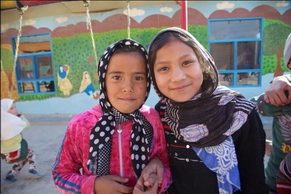 Goals and concrete examples
Author: Sylvia Shirk
The Relief Fund, founded in 1977, is the helping arm of the French Mennonites, reaching out to persons whose situation of temporary or more long-term distress has come to our attention.
Syria
The year 2013 was marked by a new action for Syria. In an email in September, the  MCC representative for Lebanon, thanks the French and Swiss Mennonites for their 'marvelous and continued support, and for your prayers for the Syrian people. The kits were received and distributed by a wide variety of churches  serving displaced people forced to leave their homes...'.
Since the beginning of the conflict, more than 3.500 hygiene kits, 200 blankets and a sum of €15.000 were shipped in two containers as far as Jordan and to Syria.  In 2013, the Swiss Mennonites joined in to fill the container with buckets.  These donations come from individual gifts.  The cost of shipping the containers (about €8.500) was covered by offerings taken at the concerts of a group of young artists from one of the churches. One congregation in the North of the Alsace handled the sorting, preparation and the shipping of the French contributions.
Afghanistan
Since its beginnings the Relief Fund has promoted a Christmas project to benefit a need that is more chronic but no less critical. This year a school project to benefit Hazara women and children of Afghanistan caught our attention.  Founded ten years ago by people who came from one of our churches, 'Le Pelican'  created its first day center in Kabul for Hazara children in 2003.  The project grew quickly and was extended to include another hundred women and girls (literacy and sewing lessons), as well as professional training in bread making and in small restaurant business, and a class in sign language two years ago.  In 2007, the Relief Fund provided for the acquisition of equipment for the bakery.
Seven years later, the donations contributed to the creation of a centre in Bamiyan, using the same model as the one in Kabul. In November, Jacques, co-founder of 'Le Pelican' died. But Ariane is not giving up. Her testimony:
The Pelican' had to position itself on this plateau where there is nothing but a poor population, without any resources:  no school, no business, no clinic, no electricity, no water ... they lack everything. So then it will be easy to help them!