religion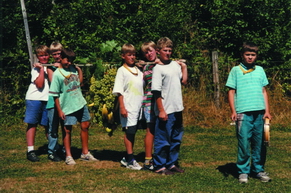 Children's and youth work
Author: Johannes Dyck
In Germany, much children's work nowadays is done by young church members providing an effective way of taking part in church life. In the Soviet Union, children's and youth work was a hot issue.
Since 1929, the law forbade every kind of special meeting, including those for women, children, and youth. When after 1955 newly established churches tried to obtain a legal status, the authorities demanded strict adherence to this law. Moreover, they often even forbade the presence of children in regular worship services. From time to time, Sunday services were interrupted by authorities and school teachers who made lists of school children in attendance. Usually the next day at school the listed children were called before school directors and bullied in front of their class. For the young churches and young parents, the persecution time between 1958 and 1966 was a struggle for the children. Finally, the parents won the battle, and the children were permitted to attend the regular services.
Victories in spite of risks
Shortly after this first small victory, churches in various cities started small Sunday-schools for children in private homes. In cities, this work could be kept hidden better than in villages. For this work, several persons, including young women, were imprisoned. Nevertheless, this risky work, often done by young women, was performed until the emigration to Germany.
Young people taking the lead
Youthwork also belonged to a grey legal area, often tolerated by officials. Usually, it was organized in small groups which met in private homes for fellowship and Bible study, often twice a week. This part of church work showed big potential and provided churches with young people that were ready to take on responsibility and accept ministry in the churches. Youth choirs also came into being, serving as an important attraction point for young boys and girls. The infrequent performances were a real festive occasion for churches.
Good hope
Things that were prohibited by the Communist government, became much more popular in the new  freedom in Germany. Knowing the importance of children's and youth work for the churches' future, Mennonite congregations built a flourishing children's and youth work in Germany that keeps children in churches up till today. Considering the often large Mennonite families in Germany, this work serves as an important factor of confessional family growth.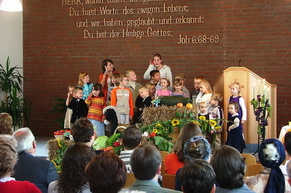 Congregational Life
Author: Johannes Dyck
The congregational life of Russian-born Mennonites in Germany in many aspects still follows the traditional ways that existed in Russia before the times of persecution. Every Sunday the congregation gathers for one or two services. The order of a usual service is simple – three short sermons are combined with singing of the choir and the congregation. The sermons are delivered by preachers of different ages and spiritual experience. The number of preachers in one church can reach several dozens.
Continuation of preaching
This tradition comes from the Pietistic revival meetings in Russia which started in the 1840s, when several participants shared their testimonies. In the early Mennonite Brethren church, the existence of many preachers in congregation soon became a tradition. Involvement of many brethren made all of them active in proclaiming the Word of God and gave additional strength to spreading the gospel. In the post-war revival that occurred in times of severe suppression, having a  big number of preachers was the best way to survive – when the leaders were deported or even imprisoned, there was always a new man to replace them.
Themes and singing
Following the old Pietistic tradition, the main content of a sermon is encouragement in faith. Often, preachers make calls for repentance, conversion and getting born again. Popular themes are discipleship, holy life and separation from the world. These themes are also the focus of regular prayer and Bible study meetings. An important part of the Russian-born Mennonite piety is singing. In times of persecution, when no Bibles were available, Christian songs could easily be memorized and shared amongst the persecuted. Often they were the only way for single isolated persons as well as for small groups of getting comfort and strength in faith. For many young people, German spiritual songs were the way to start to learn German. An important place in the church service is also given to choral singing.
Relationships and meetings
The congregational life is not limited to worship services by far. It expresses itself by close personal relations between church members. This model for closeness and intimacy of church relations was established long ago, through colony life in a rural setting when fellow church members were also neighbors living in the same village. An important part of congregational life are closed members' meetings. Here baptismal candidates tell about their faith, and church discipline is practiced; here issues of common moral standards and witness before the world are debated; and here important decisions are made.