culture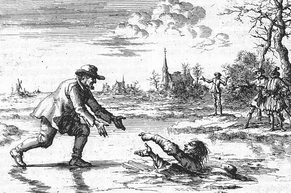 Witnesses of the Kingdom of God
Author: Fulco Y. van Hulst
What is peculiar about Dutch Mennonite ethics – and how is it made visible? The Bible passage that was very dear to Menno Simons was 1 Corinth 3:11: 'For no one can lay any other foundation than that which has been laid, which is Jesus Christ.' Christ still is the guiding light for ethics from a Mennonite perspective.
Sermon on the mount
Mennonite ethics is best characterized as "Sermon on the Mount"-ethics, or as an ethics of following Jesus as the central example of what it means to live a life that pleases God. Particular guidance is found in the sayings of Jesus in the Sermon on the Mount, as well as in his further teachings and parables. These sayings draw our attention to caring for our neighbor, especially the weak and oppressed, to the love of God that demonstrates itself in the love of others, to overcoming violence and evil and (ultimately) to loving one's enemy These are the practices that are considered to be the measures of a good life. Peace ethics should specifically be considered a characteristic element of Mennonite ethics in Dutch context. A good example would be the way in which Mennonites practiced peace ethics by actively supporting conscientious objectors who did not want to fulfill their mandatory army duty.
In the world
The Dutch Mennonite community developed largely in an urban context in close contact with the social-cultural upper class of society. These contacts were much more intensive and often much more peaceful than in other countries in Europe, where Mennonites often lived in a situation of (deliberate) isolation and even persecution and suppression. Through these contacts Dutch Mennonites were able  to spread their message of justice and peace in an active and practical way within society.
Altogether we might say that the focus in Dutch Mennonite ethics is on social ethics: the congregation is considered to be the foretaste of God's Kingdom of Justice and Peace. On the one hand Mennonite congregations try to take practical responsibility in society, by supporting diaconal projects, or by actively profiling themselves as a peace church. On the other hand the Mennonite congregations try to confront society, holding up a mirror, making the reality of The Kingdom of God visible by actively witnessing to the Peace of God in words and deeds.
References: World English Bible, 2002.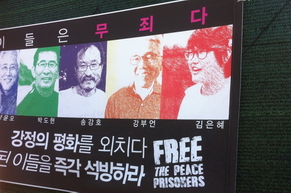 Tolerance and Freedom of Religion
Authors: Fernando Enns, Joel Driedger
Translator: J. Jakob Fehr 
In Germany religious groups are free to exercise their faith without state control, as long as they do not contravene the constitution. This means that Mennonites can exercise their faith without restriction and can attend their church services without fear of state repression. This was not always the case.
Mennonites under pressure
The Anabaptists of 500 years ago were highly critical of the church and its close cooperation with political power. Consequently, many Anabaptists refused to participate in wars or swear oaths. Adult baptism was a further expression of this conviction, ensuring that the only church members would be Christians of conviction. To opponents of Anabaptism these ideas posed a great danger to the cohesion of society, and the Anabaptists faced severe persecution.
Over time this opposition relaxed. Mennonites were no longer persecuted in all parts of the German Reich, although they were obliged to celebrate their church services in private rooms. They did not enjoy the same freedoms as others, and they tended to settle in those areas where they were tolerated, though with severe restrictions by political rulers.
Equal rights for all
Their own painful past experience was a crucial reason why early Mennonites called for religious tolerance and religious freedom. This liberal philosophy has remained an integral part of their congregational mindset in northern Germany. A well-known Mennonite who advocated for these values politically was Hermann von Beckerath (1801-1870), He  was elected to the parliament in the first German national assembly of 1848 in Frankfurt and served briefly as finance minister. He pleaded in favour of equal rights for Mennonites, who until that time still did not possess all the rights that other citizens had. In exchange, he asked his fellow Mennonites to accept the duty of military service. In order to guarantee full religious freedom and citizenship, he was willing to sacrifice the principle of nonresistance (conscientious objection).
Freedom without violence
After WWII it took a long time before Mennonites in northern Germany returned to their stance of nonviolence. In 2009 the Union of German Mennonite Congregations adopted the 'Declaration on Just Peace'. The freedom of religion and of conscience that Mennonites formerly demanded for themselves is now something that they acknowledge for all members of their congregations. They also speak out publically, so that this same tolerance might be exercised toward all other religions and creeds.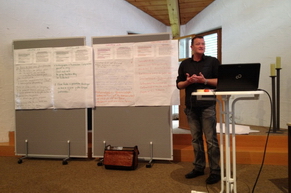 Mennonites – Traditionally modern with values that last?
Author: Beate Zipperer
Translator: Anne Zipperer
When children enter kindergarten, or at the latest when they start going to school and want to attend religious class, their families will have to start explaining things. Especially in Bavaria where most people are Roman-Catholics, Mennonites are considered quite exotic. When you explain who Mennonites are, or what is special about them, you start to rethink the standards and values of this denomination.
A family?
To be a Mennonite is basically passed down within and through families. Are we therefore a 'family church'? Does the Mennonite church structure change slowly? Traditions only last if you fill them with standards and values. Those are established only through statements from Jesus Christ. These standards and values were also influenced by early Reformatory ideas that apply to other Protestant churches as well. In short, they are:
Sola Scriptura – the Bible is the only foundation of our faith (Galatians 2:6-9)
Solus Christus – only Jesus Christ has authority over believers (Ephesians 5:23-24)
Sola Gratia –Only through mercy can humankind be saved (Romans 1:17)
Sola Fide –Only through faith is humankind justified (Galatians 2:16)
Guidelines
Many churches have guidelines about faith and life. Those get adapted, adjusted and extended. Churches are living organisms, with people who seek God's promises, which are fulfilled by the Holy Spirit. In summary, at our local congregation the guidelines are:
Live faith: At the core for us is the God as he is described in the Bible, this is the reality of God we experience. To live for that is the meaning and the mission of all Christians and churches;
Live faith: turn towards the other. Jesus Christ shows us God's love and His way of living in many different ways. To us He is unparalleled in importance. We want to follow him.
Live faith: experiencing God's work in our daily life and giving it the space it deserves.
Through the Bible God talks to us directly. The Bible, as we understand it under the guidance of the Holy Spirit, is the guideline for our life and our teaching. This requires, time and again, our willingness to listen to God and to each other.
Live faith: together we create church life and take responsibility
Appropriate to our gifts and possibilities we involve ourselves in the life of the church and are part of the testimony of Jesus Christ.