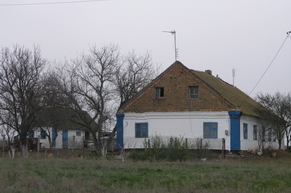 Buildings and constructions
Author: Svietlana Bobileva
Translator: Katerina Revunenko 
The Mennonite mentality is based on rationalism. Colonies consisted of villages built closely together. The settlements, connected by roads, were established close to the banks of small rivers. They were built according to officially approved plans which had been adapted to the landscape. Gradually, the colonies developed their infrastructure: craftsmen's workshops, factories, shops, churches and schools.
Well maintained and neat
The Mennonite villages were laid out along a single street, the main street, which had a hard surface. There were ditches to drain rainwater and stone paved sidewalks alongside the road. The street looked well maintained and neat. All colonies had large green spaces and gardens. Flowers grew in front gardens. A prayer house/church and a school were located in the central part of the settlement. The school was often a beautiful two-storey building with large windows, comfortable stairs and tiled floors.
Material
There were half-timbered, adobe and brick houses. The chimneys were fixed in the attic's floor for better heating and convection of warm air. In chimneys, Mennonites traditionally arranged a smoking place. The gables of houses were 9 metres high and made of brick. Roofs were gabled, tiled, covered with metal or with shingles. The floors were mostly painted. The housewives washed and scraped the unpainted floors. Every house had a cellar – rectangular or arched in shape. Walls and floors were tiled and made of bricks. Sometimes the Mennonites had rammed earth floors.
Arranging yards and houses
The yards were 40 metres wide and 100–120 metres long. Farmyards were separated by fences  which were bleached twice a year. The mostly one-storeyd buildings,  9 to 18 metres wide, faced the main street. All the houses had two entrances. The front door faced the yard. Another one led through a corridor to a barn and then to the second door, a few metres further from the main entrance. In some houses four rooms were located around the hearth which was in the centre of the building. Houses had four areas inside the building: communal areas and two living and cooking areas. Sliding beds ('shlopani'), sideboards, couches, wooden sofas, hanging double-wing cabinets and  chests are among the traditional furniture.
Wells
The wells were located in the yards and in the stables. If a village didn't have good water, the Mennonites arranged pools covered with a wooden lid which were filled with filtered rain or distilled water. Wells were also installed on the roadsides.