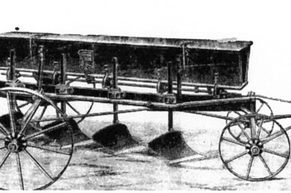 Work
Author: Svietlana Bobileva
Translator: Katerina Revunenko
Mennonite colonies in the Russian Empire were situated in a zone of risky agriculture. Lack of rains and extreme droughts sometimes converted fields into a pitiful sight. In good  years however, rye and wheat reached waist height. The Mennonites harvested with minimal losses. They carefully prepared agricultural tools and machines. All the equipment had to be ready by Midsummer Day (June, 24). On that day lobogreykas (mowers), wagons loaded with pitchforks, rakes, food and water moved to the fields. The Mennonites and their employees approached the sloping wheat in rows and folded it into big piles. The work required some skill and physical strength because the machines worked non-stop with only a meal break.
Camping in the fields
Harvesting took the whole day. To avoid wasting time, the Mennonites camped in the field. However, some wagons returned to the village for the night. They took some water and food for the next day. Such schedules made sure  that harvesting took only about 6–8 days.
Threshing
Meanwhile, other people stayed in the village to prepare for threshing. They  used 'garbos' – big wagons. These were used to take compressed wheat to a place where threshing stones were moved by two horses walking in circles. Short sticks ('langvids'), connecting the front and rear wheels, were replaced with long ones. The Mennonites also fixed 1.5 metre high ladders on the both sides. Grain-cleaning machines were turned by hand. Threshing took 8–10 days and always had the risk of the weather turning bad hanging over it.
'One day feeds a year'
Gradually, technological progress influenced the Mennonite colonies. Over time the Mennonites started using threshing machines. These were quite expensive, so the Mennonites often rented them for 1–2 days. In order to cope with a large amount of work in a short time, the owners hired 10–15 employees. They were the Ukrainians from nearby villages. They had to work hard: from 3– 4 am until 10–11 pm. However, the work was well paid and the Mennonites fed their employees properly. So there were no conflicts because everybody understood that 'a day feeds a year'. Harvest time was a difficult but important time of the year. It gave the Mennonites hope for the next year and filled their lives with great joy.
Photo: John A. Lapp, C. Arnold Snyder eds.: Testing Faith and Tradition. Global Mennonite History Series: Europe. (Good Books, PA, 2006).