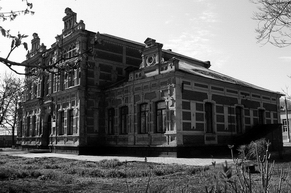 Russian Mennonites and their education system
Author: Svietlana Bobileva
Translator: Katerina Revunenko 
School and education had an important place in the Mennonite colony's life. Schooling provided knowledge, but was also a way to preserve the faith. The Mennonite elders were responsible for the education. Getting an education was a duty for school age children and congregations kept the schools under their control.
Reading, writing and counting
The Mennonite education system went through stages of development. The first stage (late1800-1820's) was determined by financial difficulties. At that time the only objectives of education were to teach children reading, writing and counting skills. The next phase started at the second quarter of the 19th century. It was defined by Johann Cornies' activity. Cornies founded four-grades Central Teacher Training school in Orlovo and then in the Halbstadt  and Chortitze colonies. In 1843 he was entrusted with managing the Mennonite schools. He intended to lessen the dominance of preachers in schools, started school reform and provided schools with some financial support. Cornies introduced teachers' conferences and opened Gnadenfeld Reading Club and a library. 
Teaching Russian: Russification
In 1866, the Guardian Committee introduced Russian as a teaching language in the Mennonite schools. Later, according to 1890-1892  laws, the ethnic schools were placed under guidance of the Ministry of National Education. Every school got a Russian language teacher. The state used language policy as a way of Russification. In order to get more qualified Russian teachers, 2-year teaching courses were started in Chortitza in 1889.
Outside influences on education
In April 1905, freedom of conscience was proclaimed in the Empire. Some Mennonite schools were reorganized and some new central schools were founded. After the Civil War (1920) the process of ethnic revival was continuing but it had a controversial character. The Odessa Pedagogical Institute was set up to train teachers for ethnic schools, including Mennonite schools. However, antireligious propaganda was intensified by the Soviet power. The atheistic state spread their ideology among students and adults. The Communist Pioneer and Komzomol organizations were established. They were supposed to influence the young generation. However, those organizations were unable to fulfill their mission. 
When the Fascists came to power in Germany the Mennonite German speaking schools experienced oppression conducted by NKVD (Commissariat of Internal Affairs). Odessa Institute's professors and teachers were accused of cooperation with the Nazis. Some of them were short or exiled.  German language was completely banned in schools in 1938. Ethnic Mennonite schools ceased to exist.