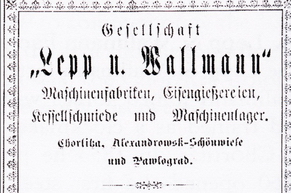 Enthusiastic Entrepreneurs
Author: Nataly Venger
The Mennonites in Russia were not only successful farmers, but also talented  entrepreneurs. The Mennonite colonies in the Ekaterinoslav province  became the main production centers in the empire when it came to developing a machine-building industry. 'Lepp and Wallmann' was the most prominent Mennonite machine-building company. The factory was established in 1850 by Peter Lepp – the founder of an entrepreneurial dynasty – and was at the height of its success under the guidance of his grandson – Johann Lepp, who inherited the enterprise in 1879 and ran it till 1919.
Lepps-Wallmanns Dynasty
In 1880 Andreas Wallmann, a rich farmer, became the Lepps' partner. After 1880 the company was called 'Lepp and Wallmann'. In 1903 it became a joint-stock company. The shareholders were  the 11 representatives of the Lepps-Wallmanns dynasty. They ran three machine-building factories in the Ekaterinoslav province. By 1903, the  value of personal and real estate of the firm was estimated to be 1,15 million rubles. The capital of the company grew to 1,2 million rubles (1903–1913) and 2,4 million rubles (1914–1918).
Entrepreneurial Success and Awards
In the beginning the factory produced the simplest farm equipment: mowers, winnowing-machines and reapers. In 1874, it released the first 'Lepp's Booker'. In the 1880's the factory started producing machines that were important for industrialization: steam engines, boilers, oil presses and equipment for sawmills. In 1860–1912 the factory participated in agricultural exhibitions and was awarded with 33 medals and diplomas.
Business and WW1
During the First World War, the company was forced to produce weapons. For the (pacifist) Mennonite-entrepreneurs this was the only way to save their property under the conditions of unity-German laws.
Importance of the Mennonite-run Factories
Lepps-Wallmanns contributed greatly to the development of the machine-building industry in the Russian Empire. Famous entrepreneurs such as A. Koop and C. Hildebrandt got their first  experience at P. Lepp's factory. By 1900, the Mennonites from the Ekaterinoslav province had produced more than 58% of the agricultural equipment in that area. In the Taurida province every third machine-building factory belonged to the Mennonites. In 1911, every fifth agricultural machinery factory in Novo-Russia was owned by a Mennonite entrepreneur. These figures can be seen as a reflection of the entrepreneurial success of this ethnic and religious group. The Mennonite factories were always using the latest technologies and competed successfully with foreign companies, providing consumers with cheap but high quality equipment. This way they contributed to the advancement of modernization.
Photo: Rudy P. Friesen, Building on the Past: Mennonite Architecture, Landscape and Settlements in Russia/Ukraine (Winnipeg, Canada 2004).