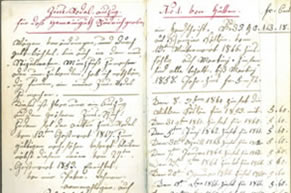 From 'Armengutskasse'  to Swiss Mennonite Mission (SMM)
Author: Pierre Zürcher
Mutual aid is important in current Mennonite congregations, as it was in the past. Whenever a Swiss Mennonite church was founded, an 'Armengutkasse', a charity fund was set up to assist the poor and needy. This fund was sourced from the voluntary donations and legacies of individuals or childless couples. Although the bishop of the prince bishopric at that time had the legal right (the droit d'auboine) to take possession of these legacies, he often benevolently relinquished this right because he recognised that the Mennonites were taking good care of the poor in their midst. The archives of the Swiss Mennonite Conference have preserved numerous handwritten account books from 11 Mennonite churches; the oldest entry is dated 1715.
Mennonite and non-Mennonite recipients
 The churches' charity funds supported people in a large part of the country, covering the entire Jura and extending into the Basel area as well as across the border into France. Individual cases of non-Mennonite recipients of this support are also recorded. Some entries from the account books in the Swiss Mennonite Conference archives give interesting insights. Deacon Christen Tschantz records in 1768 that he received for the 'Armengut' from Bürki's last will and testament 300 crowns. Another charity fund treasurer reports: 'On 11th September I received 91 francs from Ueli Lehmann before his death, for the poor, in 1859'. And finally, single elderly people were often able to live with Mennonite families in their old age. These families were paid room and board by the 'Armengutskasse'.
Swiss Mennonite Mission (SMM)
 The Anabaptist 'Armengutkasse' indicates the importance of mutual aid in Swiss Mennonite congregations – long before governments introduced social welfare. It is therefore no surprise that sometimes people were suspected of joining Mennonite churches just because they were attracted by this kind of a social security system. After World War II, the Swiss Mennonites founded their own organisations for missions (SMEK) and aid (SMO); since 1998 these are united in the Swiss Mennonite Mission. In recent history aid projects have been organised repeatedly. For example, in 1974 a large shipment of 50 tonnes of powdered milk was sent to famine-struck Chad. Over the years projects of this kind have taken place a lot, often in cooperation with the aid organisation of the North American Mennonites, Mennonite Central Committee (MCC).