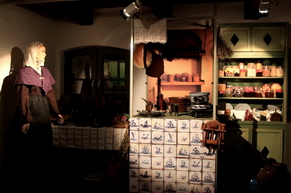 Remembrance of Mennonites in today's Poland
Author: Michał Targowski
The disaster of the WWII forced Mennonites to leave oland, their homeland of 400 years. The heritage they left is now being re-discovered and fascinates new generations of Polish people and visitors from abroad.
Respect
Farms and houses left by Mennonites who emigrated from Poland were taken over by Polish families exiled from eastern Polish territories that were annexed by the USSR. The new inhabitants' attitude towards their predecessors was negatively influenced by the painful experiences of the war and Polish-German antagonism. However, they had great respect for the Mennonites because of the buildings, devices and systems they left, which allowed farming on the wetlands.
Educational and cultural exchange
The period of the Cold War made it impossible for Mennonites to come back to their homeland. Remembering their roots, they managed to organize substantial help for Poland many times , especially in the first post-war years. It was not until the 1970s when, as a result of the normalization of some Polish-foreign relations, a few Mennonites were allowed to visit their former churches and settlements for the first time. This was also the beginning of an educational and cultural exchange organized by the Mennonite Central Committee. The developing contacts led to a closer, though informal, cooperation which resulted in the restoration of forgotten cemeteries,  historical research on Mennonites in Poland and material support sent to Poles in difficult times.
Muzeum Zuławskie
In today's independent Poland one can observe a growth of interest in Mennonites. Relics of their existence are recognized as precious elements of the far reach and diverse heritage of the Polish territories. There are many organizations and associations which take care of the remembrance of Mennonites through exhibitions, cultural events, restoration of cemeteries and the saving Mennonite buildings. Since 1993 the International Mennonite Conference is organized by the Klub Nowodworski in Nowy Dwór Gdański. This association opened the Muzeum Zuławskie with a rich exhibition describing the story of local Mennonites. Their heritage is promoted by official tourist routes (Szlak Mennonitów) and also by the Mennonite Weekend in Chrystkowo near Chełmno. In the near  future the Olęderski Park Etnograficzny (Dutch Colonization Open Air Museum) will be opened near Toruń, with original houses and pieces of art left by Mennonites who lived in the Vistula Valley. Last, but not least, in 2007 the Agape Mennonite Fellowship was established in Mińsk Mazowiecki as a community of Christians continuing the beliefs and traditions of Polish Mennonites.