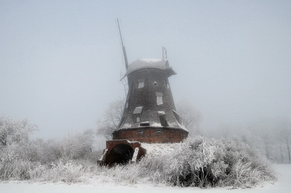 Zulawy – New beginnings
Author: Łukasz Kępski
Translator: Michal Targowski 
Zulawy - the fertile green lowland at the mouth of the river Vistula, with its unique traditional architecture and incredibly complex drainage system, was a home for many generations of Mennonites from the 16th to the mid-20th century.
Tolerance
The first Mennonites settled in Zulawy in the mid-16th century. The area, called also Werder, was then a part of Royal Prussia, one of the provinces ruled by Polish kings. In earlier centuries,  Poland had shown tolerance towards people of different religions: Jews, Roman and Orthodox Christians who lived in the Kingdom. The first half of the 16th century, a time of religious conflicts in Western Europe, brought a peaceful victory of Reformation in big Polish cities, especially in wealthy harbours like Gdansk (Danzig) and Elblag (Elbing), connected by busy sea trade routes to the Netherlands. This situation gave hope to persecuted Dutch Mennonites. Migration to Poland via Gdansk seemed a way to save their own identity.
Skillful farmers
Mennonites did not find a warmly welcome in Gdansk where local merchants and craftsmen were afraid of competition with the newcomers. However, their skills in farming on marshes enticed administrators of the marshy Vistula lowlands to invite Dutch migrants to settle in the rural, sometimes even uncultivated areas of Zulawy. The region became inhabited by Mennonites, with a developed network of settlements, canals and dikes to allow effective agricultural development of the region. Newcomers were usually given a privileged status with long-term lease contracts called emphyteusis, which protected their religious freedom, self-government and customs. From the 1540s the Mennonite population in all parts of Zulawy grew in number and area. They settled in old villages and established new ones on the lowlands between Gdansk, Elblag and Malbork.
Another migration
The peaceful existence of Mennonites in Zulawy was disturbed by Northern wars in the mid-17th century and by the annexation of the area into the Kingdom of Prussia in 1772. Restrictions of freedom and a growing demand for military service forced by new authorities caused another migration - to the Ukrainian steppes. Many Mennonites found a new home there. However, they did not forget their roots and called several new settlements after their villages left in Zulawy.  Those who stayed along the banks of Vistula had to flee from their country in World War 2, leaving behind a beautiful landscape and a cultural heritage developed during 400 years of Mennonite existence in the area.