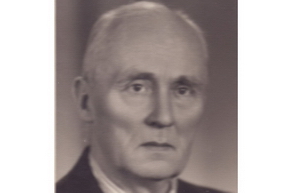 A modest man who helped shape the Mennonite Brotherhood
Author: Marius Romijn
At the beginning of the twentieth century, the influence of liberal protestantism decreased in the Netherlands, while orthodoxy and Catholicism remained stable. Many young liberal pastors struggled with the concepts of 'sin and forgiveness'. They were inspired by the English Quakers, especially the meetings in Woodbrooke; putting Christ and prayer at the centre. Lay people could lead in spiritual matters and in practical tasks.
Tjeerd Hylkema was, as a Mennonite student of theology, touched by lay piety, lay people working in the church and by the peace testimony. He contacted other Mennonites about the possibility of introducing these concepts into the Brotherhood. This became the start of the Vereniging voor Gemeentedagen ('Congregational Days Association'), a combination of national and regional meetings, working groups and gradually also conference buildings and camping barracks. Women could fulfill all the roles too, and this revived the brotherhood. Hylkema, the minister of the village of Giethoorn since 1912, was the chairman of this movement for ten years. The Central Mennonite Board ('ADS') started out feeling uneasy about the socialist, feminist, pietistic and orthodox features. The magazine of the Congregational Day Association, 'Brieven' ('letters'), was first published in 1918. Committees focused on  Bible studies, organising summer-camps for young people, pacifism, and other issues.
In Giethoorn, Hylkema established a training institute for basket-weaving. He also initiated aid for the Russian Mennonites, who were persecuted heavily after the Revolution of 1917. The booklet he wrote in 1920 De geschiedenis van de doopsgezinde gemeenten in Rusland in de oorlogs- en revolutiejaren 1914 tot 1920 ('The history of Mennonite congregations in Russia during the war and the revolution 1914-1920') was reprinted and also published in German. He was a great help during the emigration of hundreds of Russian Mennonites to North- and South-America, via Rotterdam. Help was also organised for impoverished Dutch families after the depression of 1929. During World War II, he organized a transport of Jewish children to London, and aid for refugee camps in the Netherlands.
After serving in Giethoorn, he became a minister in Amersfoort and Amsterdam. He served as president of the Dutch Mennonite peace-organization, and worked for the library of the Peace Palace in The Hague. He wrote for the 'Brieven', published several books, and was one of the editors of the Mennonite Hymnbook (1944). His work for the 'Gemeentedagbeweging' strengthened international relations, and helped to widen the goal of the 'ADS'  the 1924; 'enhancement of worship-services' (mainly by supporting the Seminary), was expanded with: Support of material, ethical and religious interests of Mennonites, and representation.
Tjeerd Hylkema was a modest man, who in spite of his poor health, could realize many of his ideals. He was a great help to the Dutch Mennonites entering the twentieth century.