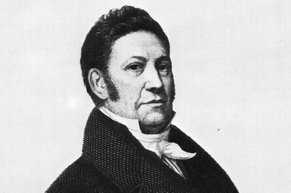 'Mennonite Pope'
Author: Annelies Vugts-Verbeek
These days Samuel Muller is viewed as one of the most influential seminary professors in Dutch Mennonite history. In his days he was mocked as the 'Mennonite Pope' or 'Head of the Church'. His growing authority and influence created a strained relationship with the autonomous and anti-authoritarian approach of Dutch Mennonites. In that respect he was more a representative of the spirit of the 19th century than of the liberal Mennonites, who felt comfortable with the (late)18th century spirit.
From Krefeld to Amsterdam
Born in Germany, Muller came from Krefeld to Amsterdam (1801) on a scholarship to become a Mennonite minister. He picked up the finer points of the job in the small city of Zutphen (1806), followed by callings in the more prestigious Zaandam-Oostzijde (1809) and Amsterdam (1814). In 1827 he was appointed  Professor at the Seminary, where he had been a board member for several years already. Under his leadership the Dutch Mennonite Seminary became a professional institution. It would eventually be held in  the same esteem as the Dutch Reformed Seminary, which was later to become a part of (the forerunner of) Amsterdam State University.
Emancipation
The Dutch Mennonites became more and more educated themselves, and played major roles in Dutch society and cultural life, for instance in institutes and journals. This meant they needed well-trained ministers who could deliver educational and motivating sermons. Ministers, who like their prominent church members, participated in the (leading) cultural networks. These Mennonites felt the need to blend in with society. Their belief differed from the Reformed approach in its anti-dogmatism and the emphasis on the Bible as the ultimate authority, not man.
Criticism
Muller's many pupils (for 30plus years he worked at the seminary!) were vehicles for and stimuli to this Mennonite emancipation. However, a few challenged the mainstream Mennonitism that Muller preached. Joost Hiddes Halbertsma (1789-1869) missed the old school liberalism and folklore in Mullers approach and Jan de Liefde (1814-1869) was more orthodox and more of a pietist than Muller. De Liefde left the Mennonites. Others, like part of the congregation in Balk, left the country to exercise their dearly held beliefs elsewhere.
Heritage
One might say that Dutch contemporary Mennonites are more heirs to Muller than to Menno. With Muller the Dutch Mennonites entered a new era that would prepare them for late 19th century modernism – a Christian belief that challenged all set dogmas, even the belief in God itself. Muller, almost ninety years old by that time, was appalled at the new theological developments for which he unwittingly had cleared the way.
Source: Annelies Verbeek, 'Menniste Paus'. Samuel Muller (1785-1875) en zijn netwerken, (Hilversum 2005).