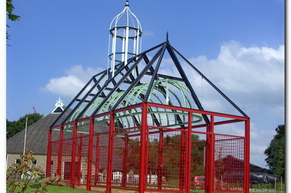 The new open silhouette church of Witmarsum
Author: Gerke van Hiele
Next to the Menno Simons monument (1878) near Witmarsum, in 2008 an open silhouette church was built. It was initiated by the Frisian Mennonite Monuments Foundation (SDMF) and designed by Joute de Graaf. It shows the silhouette of 'Minne Siemens old meeting-house' which was demolished in 1879. The architect has taken good care not to build a replica of a secluded Mennonite church, but an open structure with space for light, rain and wind.
Spirituality
For many visitors this new silhouette church is an invitation to ponder the significance of the Anabaptist tradition. It is part of a meditative pilgrimage at the birthplace of Menno Simons. The starting-point of this route is the Koepelkerk in Witmarsum, the place where Menno left the Roman-Catholic Church and closed the door behind him, a moment which has become a crucial one, showing the Anabaptist tradition as a tradition of renewal. The next station is the old and hidden meeting-place of Pingjum. This building reflects a history of persecution and strife, leading to the Mennonites eventually becoming the 'quiet in the land'. The last station is this open and colourful silhouette church. Here one can sense the inspiration for the future direction of our communities. 
Past, presence and future
Witmarsum has finally become a proper place of pilgrimage. Before 2008 foreign tourists and pilgrims came to this place enthusiastically, but they tended to leave slightly disappointed. There was the Menno Simons monument, but now there is also this silhouette church which shows a clear profile of the Mennonite tradition and community. We may build carefully on Jesus' foundation, but we have to be careful how we build (1 Cor 3:11). It is our turn to live our personal and communal life both faithfully and authentically wherever we may be.
Anabaptist Characteristics
This  structure with its strong profile may also bring to mind all that we share. For example the Shared Convictions (MWC 2009), but also the characteristic elements of our tradition like baptism, discipleship and work for justice & peace. One could also think of the seven Practices of David Augsburger: radical attachment, stubborn loyalty, tenacious serenity, habitual humility, absolute nonviolence, concrete service, and authentic witness.
References: David Augsburger, Dissident discipleship, A spirituality of self-surrender, love of God and love of neighbor, (Grand Rapids 2006). F. Stark, E.J. Tillema (red.) Kracht van een minderheid (Zoetermeer 2011). G.J.J. van Hiele, 'De zevensprong. Over doperse spiritualiteit' in: Doopsgezinde Bijdragen DB 34 (2008), pp. 127-152.