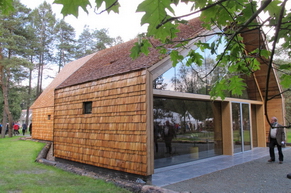 Community life and public well-being

Author: Alle G. Hoekema
In the 1920s and 1930s the 'Gemeentedagbeweging' (Congregational Day Movement), a spiritual renewal movement, built several  retreat centers. These fellowship homes ('Broederschapshuizen') fulfill an important role, both for Mennonites and for society in general. They are a special part of the Mennonite identity. Recently, in the Elspeet home, 'Mennorode' a new, ecological chapel was built. Another form of fellowship can be found in the so-called 'Inloophuizen' i.e. Walk-in houses,  an open house where marginalized or homeless people and refugees without legal identity papers can find a peaceful retreat.
Orphanages, almshouses and schools
During the seventeenth century the Dutch Mennonites founded orphanages, built courtyard almshouses for poor widows, and practiced other forms of support for the destitute. The larger congregations became especially active in these fields. Since the Mennonite orphanages were mostly small, a lot of individual attention could be paid to the orphans. After WW II, the government took over these care institutions. In several cases, the original foundations still exist, helping with needs and activities of young people within society. Only one congregation, Haarlem, had two Mennonite primary schools, which at the beginning of the twentieth century were renowned for their modern teaching methods. They closed  in 1958.
Homes for the aged
Some congregations still have one or more almshouse courtyards. In addition, from the1930s onwards, modern homes for elderly people were built. All these homes are now dependent on government regulations and subsidies, which has led to an unfortunate loss of their former Mennonite identity.
'Society for the Propagation of Public Well-Being'
Other fields of social care that Dutch Mennonites were active in were public education and the improvement of public health in poor parts of the big cities. The Society for the Propagation of Public Well-Being ('Maatschappij tot Nut van 't Algemeen') was founded in 1784 by Mennonites and other social activists. In line with the Enlightenment ideals, the aim of its local branches was education of the people and the spreading of good literature. The input of Mennonites is small nowadays. During the nineteenth century influential Mennonite individuals, especially in Amsterdam, were also involved in the foundation of public bathing houses and other facilities for the working class. When after  WW II the Netherlands became a welfare state, the influence of the church declined rapidly. However, it may well be that  the role of the churches, including Mennonites, in care in society will have to increase again in the future.