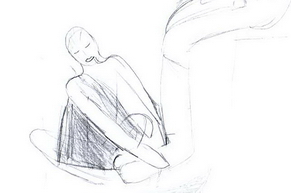 The foot washing
Author: Geja Laan
Translator: Machteld Laan 
The ritual of foot washing has never been performed in the Mennonite Congregations that I have served, although I know that in the world wide Mennonite Fellowship it certainly has. Also, I know that for centuries it has been part of the faith- and congregational life of several Mennonites. From discussions I had with various brothers and sisters I understood that foot washing makes people feel uncomfortable.
Moving
Still, I very much like to read out John 13: 1-20 on Maundy Thursday, when we celebrate the last supper. This is the story that tells us how Jesus washes the feet of his disciples, while he has the last supper with them. To me, the text has always been inspiring and moving, because, in my opinion, it explains what is important to God and to Jesus: a loving attitude in life, not of ruling, but of serving.
Fresh start
When the gospel writer John tells us how Jesus removed his clothes during the meal, Jesus also removed, in my opinion, every possible appearance of status he could have had. Jesus attaches no importance to his own status but only to the things  which really help others. In the story he dresses himself in a linen cloth only and without further ado simply sits down to wash the feet of his disciples, to wash all the dirt literally, and in my opinion also figuratively, off their feet. He gives himself fully to this work: refreshing them so they could make a fresh start. He really wants the best for them.
Subservience: a choice
When you are forced to wash someone else's feet, it is a kind of slavery. Too many times especially women have been forced to be a servant and to do things against their will, which is a really hard situation to cope with. But if you choose to be a servant to someone else, it's a form of love, which radiates love, peace and divine beauty. A radiance and beauty no ruler in this world could ever reach.