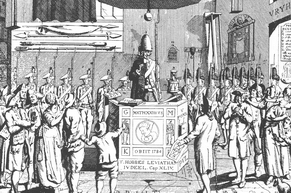 Nonresistance or defense
Authors: Marius Romijn, Pieter Post
Dutch Mennonites can make the individual choice whether to cooperate in state sanctioned violence or not. In Menno Simons' era this was different. Since then the Mennonite attitude towards violence has changed considerably.
Münster or Menno?
Menno was opposed to the Münster Anabaptists, who had taken over the City Council in 1534. When the city of Münster was in danger of being recaptured by the Catholic bishop, some thousands of armed Dutch Anabaptists set off to defend the 'New Jerusalem'. According to the Münsterites, an Era of Revenge had begun in which the believers had to take up the sword. Christ's Kingdom of Peace would be established in the next era.
Nonviolent Mennonites sometimes supported the State
To Menno and his followers, the government had a God-given task: 'Protection of the weak, and defense of faith'. They themselves were nonresistant, but governments could use violence as part of this God-give task. In a besieged city, Mennonites would not fight, but could help by extinguishing fires or repairing damage. In 1572 Waterlander Mennonites delivered money to William of Orange for the defense against the Spaniards, and in 1672 different Mennonite denominations invested time and effort into reinforcing the Dutch army.
Separation of Church and State
In the end of the 18th century dissident and patriotic Mennonites became actively involved in the Government.  Influenced by the French Revolution they strove for equal rights. Together with the remonstrants and other enlightened theologians, they took part in the first National Parliament which had the separation of Church and State in preparation. Jacob Henrik Floh (1758-1830) was the first Mennonite pastor who took office as a secretary of State. He pleaded for equal rights, in particular for Jews who were treated as outcasts. For 19th century Mennonites the separation of Church and State (1848) was not self-evident. Some Seminary-students participated in a violent revolt which ultimately divided the United Netherlands into Belgium and the Netherlands (1830). At the same time entire congregations emigrated abroad, to escape the military draft (1853).
In the 20th century the principle of non-violence became a live issue again through the Mennonite 'Working Group Against Military Service' (1925). They later became the Mennonite Peace Group (1946) which supported many young men (mennonite or not) during their process of conscientious objection (CO). Since 1923 the State-Government allowed CO-ers, but in present times the military draft is postponed (1997).
Reference: Alle G. Hoekema e.a., Dagboek Cor Inja. Geen cel ketent deze dromen (Hilversum 2001). Picture: S. Groenveld e.a., Wederdopers, menisten, doopsgezinden in Nederland 1530-1980, (Zutphen 1980),174.