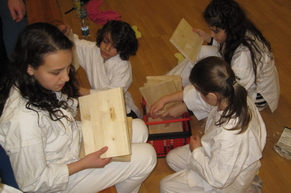 Peace in the city of Berlin
Authors: Martina Basso, Marius van Hoogstraten
For Mennonites, peace is at the heart of our theology. But peace can mean different things in different times and places. This is why, in 2009, the Vereinigung Deutscher Mennonitengemeinden (VDM) took time to think about what the peace witness means today. As a result, they wrote a 'Declaration on Just Peace'. In addition to a theological part, this Declaration also described practical 'proving grounds for peace and non-violence'. That is why they also founded Berlin Mennonite Peace Center.
A culture of Peace
The work we do at the Berlin Mennonite Peace Center builds on this Declaration and is intended to show what a 'culture of peace' could look like – what being a 'Peace Church' in a large and diverse city, and an important capital, could entail. In the Declaration, the VDM wrote that 'The task of peace is not restricted to ending violence. It also seeks to establish structures that will contribute to a just and long-lasting peace'.
What does Peace mean concrete?
For us, it means we work on the following things: Building networks to prevent violence: we accompany a network of people and organizations in an inner-city neighborhood of Berlin. We also prevent violence through sports (karate for girls), and create spaces for people of different cultures and/or religions to meet and connect. We cooperate with the Brethren in Christ in Zimbabwe to learn together about conflict transformation and raise awareness about the difficult situation in Zimbabwe. We also make the witness for peace known in wider society and in other churches. We organize prayers for peace and continue to look for a 'spirituality of peace' that crosses confessional and religious borders. We support and advise Mennonite congregations and institutions in their peace work.