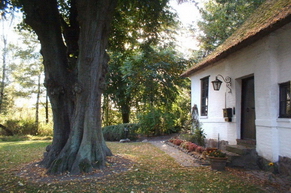 Menno Simons'  Hiding Place
Author: Hans-Jürgen Goertz
Translator: J. Jakob Fehr 
On the north side of the village of Bad Oldesloe in Germany there is a whitewashed cottage with a thatched roof under a majestic linden tree, the Menno Kate. The Kate stands as a memorial to the last years of Menno Simons (1496-1561), the namesake of the Mennonites. After Menno was expelled from the city of Wismar in 1544 he found shelter in the estate of Wüstenfelde, where he could work on his publications in peace, writing to his congregations and discussing controversial issues of church discipline with fellow church leaders.
The secret printing press
Menno Simons lived on the Fresenburg estate with a group of Anabaptists who had been permitted to live at a nearby estate. The village of Wüstenfelde was later destroyed during the Thirty Year's War, and so it is not clear whether the Menno Kate was rebuilt on exactly the same site or not, or perhaps even survived the war. He may have lived right in the Menno Kate when he was supervising the printing of his works. He was permitted to use the printing shop in the spring of 1554 and the summer of 1556. In spite of the general prohibition on printing Anabaptist literature, we know that four of his books, including his famous Foundation Book, were published in this time frame. Menno remained in Wüstenfelde after the printing shop was closed. He died there on January 13, 1561 and is said to have been buried in a cabbage patch five kilometres from the Menno Kate.
From hide-away to museum
Since 1902 a memorial stone and a bronze plate honour the memory of Menno Simons at the Menno Kate. The cottage is a listed historical monument. It is leased by the Union of German Mennonite Congregations and cared for by the Mennonite Historical Society of Germany. In the 1960s it was restored and turned into a small museum, displaying books, maps and images from the lively history of the Mennonites. It opened in 1986 and after further renovation it has been available to visitors since 1999.
Symbols of reconciliation
The aged linden tree that was supposedly planted by Menno himself is called the 'Menno-Linde'. Several years ago Mennonites planted two beech trees, one in Wittenberg and one near the cottage. Both trees reaffirm the recent act of reconciliation between the Lutheran churches and the Mennonites.