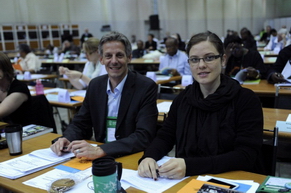 Ecumenism – For Justice, Peace and the Integrity of Creation
Author: Fernando Enns
Translator: J. Jakob Fehr 
From the very beginning of the ecumenical movement in the 20th century it was important to Mennonites to develop good relationships with other churches. They were involved in founding the World Council of Churches (WCC), which is now a fellowship of 350 churches with about 550 million members worldwide.
War is contrary to God's will
The establishment of the WCC was a response to the horrors of two world wars. The churches acknowledged their failures, and especially the German churches confessed their guilt. Accordingly, the WCC declared that 'war is contrary to God's will'. Since then, the ecumenical movement has campaigned for justice, peace and the integrity of creation. The other churches in the WCC have shown great interest in learning more about the theology of the 'historical peace churches' and Mennonites have had the opportunity to communicate their position in many ecumenical discussions.
The Decade to Overcome Violence
During the 8th General Assembly of the WCC in Zimbabwe (1998) a Mennonite delegate initiated the idea of a 'Decade to Overcome Violence: Churches for Peace and Reconciliation', which the assembly embraced enthusiastically. Searching for methods to overcome violence became a central activity of the ecumenical movement, in theological and ethical thinking as well as in practical activities. The Mennonites were now faced with the challenge of clarifying their own position on peace and violence and communicating their theology to other Christian churches.  A Mennonite Peace Centre was established in Berlin, and the comprehensive paper 'A Declaration on Just Peace' was written.
A Pilgrimage of Just Peace
The Decade to Overcome Violence lead to the next General Assembly of the WCC (South Korea 2013), deciding to establish its new and comprehensive programme for the coming years: 'A Pilgrimage of Justice and Peace'. Again Mennonites were integrally involved in its realisation. The goal is to examine more deeply the spiritual roots and sources of Christian faith for the formation of a just and peaceful world, to provide Christians with new insights and dimensions for their involvement in the political and social life of their communities. This will hopefully lead to the conviction that the gospel has a transformative power – even in the midst of violence and injustice.