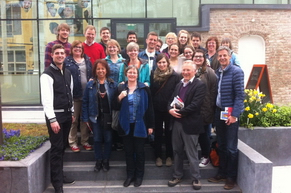 Academic Theology and Peace building
Author: Fernando Enns
Translator: J. Jakob Fehr 
In 2006 the Institute for Peace Church Theology at the University of Hamburg was established as the first academic institute for Mennonite Theology. Until then Mennonite students who wished to train for a pastorate or teaching position needed to go to the Mennonite Seminary in the Netherlands or to the USA, if they wanted to add history and theology from a Mennonite perspective to their studies.
Peace theology
The chief contribution that Mennonites have brought to the international ecumenical discourse is their peace theology, which is founded on the idea of nonviolence. The central theme of this theology, first taught by the Anabaptists of the 16th century, is that Christian faith should be a way of life that is marked by an active commitment to justice, peace (without violence) and the integrity of creation. This view has significant implications for all other aspects of theology: first as to the manner in which theology itself is practiced, second as to the content of theology itself. By its nature, peace theology is ecumenical and is linked to other churches, traditions and cultures, and creates a dialogue with other religions. Therefore, the Institute works closely with the Missions Academy and the Academy of World Religions at Hamburg University.
Peace building in the fullest sense
This understanding of peace theology should not be restricted to academic debates. If we understand violence in all its aspects  – whether it be direct (by an individual), indirect (by political or economic systems) or cultural violence (discrimination of any kind) – then striving to be freed of it must also be present in all aspects of life. The Institute began by helping to establish an 'Interdisciplinary Working Group for Peacebuilding', where academics from various fields work together. We created a peace education  program for students of all disciplines, in which theology and religion take on an important role. Additionally, since 2011 the Institute offers a special course in mediation. A public forum, the mennoFORUM, has been established together with the Hamburg Mennonite congregation to discuss contemporary subjects with important people in politics, economics, culture and religion. The Institute has also written a number of publications that show how peace theology and peace education have an important voice that needs to be heard both inside the academic world and in the public sphere.