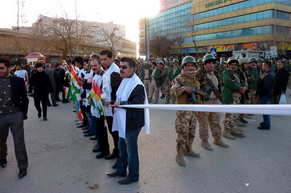 Christian Peacemaker Teams Europe (CPT)
Author: Marius van Hoogstraten
Millions of people around the world live in places where armed groups, soldiers or militias are in charge of civilians' everyday lives. Millions of others have had to leave their countries and become refugees. You often hear people say that this is just the way it is. They say the only thing we can do for these people is to send our army. But that often only makes the war worse.
New Politics
Christian Peacemaker Teams try to look for other ways. We go to violent places to work for peace with the people that live there. Instead of using weapons, we take pictures and write things down. Soldiers and other armed groups can recognize us by our hats and vests. This makes them less likely to use violence, because they know they're being watched.
We used to think this made us very special, but now we know there are local people working for peace almost everywhere, finding creative ways to resist violence or stop corporations from destroying their land. Through articles and videos, we try to make these local, grass-roots peacemakers known to an international audience. Non-violent resistance can mean many things – for example, forming a human chain  between soldiers and protesters, or just going to school or taking your sheep out, even when the army tries to stop you.
Non-violent resistance
In Canada, for example, many indigenous peoples are seeing their land and way of life threatened by large corporations. Here, CPT volunteers accompany indigenous non-violent resistance. For example, when roadblocks are put up to prevent logging companies from getting their trucks into the forest. CPT-ers also teach non-indigenous Canadians about the struggles of indigenous Canadians.
In Europe, we're concerned about the violence faced by refugees. There's almost no way to get to Europe safely, because the borders are highly militarized. This means many refugees try dangerous other ways, and thousands have died on the borders in the past years, particularly in the Mediterranean sea and between Greece and Turkey.
The story of Christian Peacemaker Teams started in 1984 at the Mennonite World Conference. The dream was to get thousands of Christians parachuting into conflict zones. We now see it was a little self-important to think that would be of any help. Nowadays, not only Christians work for CPT, and our cooperation with local groups is at the center of our work. We support grass-roots initiatives in Colombia, Palestine, Iraqi Kurdistan and Canada.