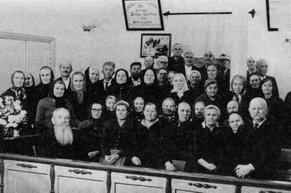 Itinerant preaching
Author: Johannes Dyck
Johannes Fast, a Mennonite Brethren itinerant preacher, was one of te key people in helping to re-establish congregations in new places with new people after World War II. He was born in 1886, in Mariental in the colony Alt-Samara in Russia, and died in 1981 in Dshetysai, Kazakhstan. The preacher-to-be was born into a large family. His parents, both former widowers, created a blended family of thirteen children from their previous marriages. Together they had more children in the next years and their number grew to twenty-two.
Vocation and theological training
After finishing the village school, Johannes started an apprenticeship with his elder brother, a carpenter. In 1908 he started a three-year term with the non-military forestry service in Gross-Anadol in South Russia. Here, on May 4th 1908 he experienced a conversion and in 1910 he delivered his first sermon. Between 1911-1913 he studied at the Bible School St. Chrischona in Switzerland. After returning home he became a preacher at the Mennonite Brethren church in Alexandertal, conducted a choir, founded a youth association in 1920 and served as an itinerant preacher. In 1913, he married Agathe Driedger. She died in 1926. In 1927, he married Wilhelmine Enns. That marriage lasted till 1976.
Fast's mission tested
In March 1931, Fast and his family were deported to the Far East where he spent the next decades, until 1954. A year later he moved to Temirtau in Kazakhstan from where he visited many believers scattered around Central Asia, Siberia, and the Ural, preaching, teaching, baptizing, ordaining, and founding churches. When the oppressions became stronger in 1958, the authorities started a campaign against him, but in the end they did not put the seventy year old preacher in prison.
Sermons: Fast's way of seeing
From 1967, Fast lived in Dshetysay in South Kazakhstan. Here he joined a church that consisted mostly of Germans, where he continued his work in spite of progressive blindness. In 1970, he started to write down sermons for widows, which were in turn copied by their readers. The almost blind and aged preacher continued to write, and produced two books with sermons for every day as well as a volume of sermons for different occasions. His writings are the most comprehensive collection of sermons written by a Mennonite in USSR after World War II.
See more about Johannes Fast in the German Mennonite Encyclopedia Online (http://www.mennlex.de/doku.php?id=art:fast_johannes).