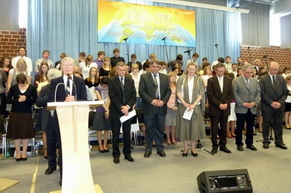 Diversity of Mennonites with Russian background
Author: Hermann Heidebrecht
Of the approximately 2.5 Million Russian-born Germans who immigrated to Germany since the 1970s, about 200.000 have Mennonite roots. Many persons with a Mennonite background when entering Germany declared their confession as Mennonite, but many of them lived in regions of the Soviet Union where no Mennonite congregations existed after World War II. They were not baptized and never belonged to a Mennonite or Mennonite Brethren church (in the Soviet Union, these were the two dominant Mennonite branches). In the past decades, many of those 'up-rooted' people found their way back to the faith community. The more than 100 congregations of Russian-born Mennonites have 35.000 to 40.000 members.
Brotherhoods and associations
Almost all of the Mennonite churches with approximately 35 gathering places joined into an Association for Spiritual Support of Mennonite Churches (Arbeitsgemeinschaft zur geistlichen Unterstützung der Mennonitengemeinden, AGUM). The Mennonite Brethren churches, however, joined various different associations. A big part of the Mennonite Brethren churches found themselves in associations with Russian-born Evangelical Christian-Baptists: 25 congregations, including branches, in the Brotherhood of Christian Congregations in Germany (Bruderschaft der Christengemeinden in Deutschland, BCD), and 7 Mennonite Brethren churches joined the Union of Anabaptist-minded Churches (Bund Taufgesinnter Gemeinden, BTG). One larger group of Mennonite Brethren churches with 23 gathering places comprises the so called Frankenthal Circle, a non-formal brotherhood. One Mennonite Brethren church joined the Brotherhood of Evangelical Christian Baptists (Bruderschaft der Evangeliums Christen Baptisten), and several congregations did not join any association. A certain amount of Russian-born Mennonites are part of other associations (AMBD, VMBB, WEBB).
Statement of Reconciliation
During the celebration of the 150th anniversary of the Mennonite Brethren Church in 2010, several Mennonite Brethren congregations that belonged to the Union of Anabaptist-minded churches (BTG), to the Association of Mennonite Brethren churches in Germany (AMBD), and to the Association of Evangelical Free Churches of Mennonite Brethren in Bavaria (VMBB), published a Statement of Reconciliation, in which they asked for forgiveness for inappropriate behavior against other Mennonite churches during their history, and expressed their desire that in the shared future the cooperation should be defined by brotherly love and mutual appreciation. Though the majority of Mennonite Brethren churches did not join this statement, the relations between churches of both kinds has been  brotherly and often even cordial for many years.