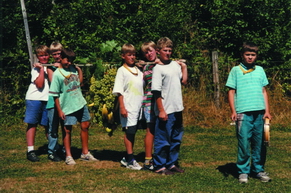 Children's and youth work
Author: Johannes Dyck
In Germany, much children's work nowadays is done by young church members providing an effective way of taking part in church life. In the Soviet Union, children's and youth work was a hot issue.
Since 1929, the law forbade every kind of special meeting, including those for women, children, and youth. When after 1955 newly established churches tried to obtain a legal status, the authorities demanded strict adherence to this law. Moreover, they often even forbade the presence of children in regular worship services. From time to time, Sunday services were interrupted by authorities and school teachers who made lists of school children in attendance. Usually the next day at school the listed children were called before school directors and bullied in front of their class. For the young churches and young parents, the persecution time between 1958 and 1966 was a struggle for the children. Finally, the parents won the battle, and the children were permitted to attend the regular services.
Victories in spite of risks
Shortly after this first small victory, churches in various cities started small Sunday-schools for children in private homes. In cities, this work could be kept hidden better than in villages. For this work, several persons, including young women, were imprisoned. Nevertheless, this risky work, often done by young women, was performed until the emigration to Germany.
Young people taking the lead
Youthwork also belonged to a grey legal area, often tolerated by officials. Usually, it was organized in small groups which met in private homes for fellowship and Bible study, often twice a week. This part of church work showed big potential and provided churches with young people that were ready to take on responsibility and accept ministry in the churches. Youth choirs also came into being, serving as an important attraction point for young boys and girls. The infrequent performances were a real festive occasion for churches.
Good hope
Things that were prohibited by the Communist government, became much more popular in the new  freedom in Germany. Knowing the importance of children's and youth work for the churches' future, Mennonite congregations built a flourishing children's and youth work in Germany that keeps children in churches up till today. Considering the often large Mennonite families in Germany, this work serves as an important factor of confessional family growth.