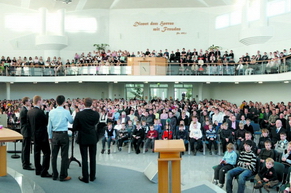 Mennonites leaving the USSR for Germany
Author: Hermann Heidebrecht
Before 1987, only a few thousands Mennonites from Russia could leave the USSR for Germany. After 1987, most emigration applications were approved by German as well as by Soviet authorities. A mass exodus occurred on a scale which had never been seen before. Several reasons existed for this escape of almost all Mennonites from the former Soviet Union.
The persecution and oppression of faith lasted almost 70 years. Christians were not only put under pressure but were also regarded as backwards.
National oppression in the Soviet Union
National oppression of Russian-born Germans who were not differentiated from Hitler's national socialists of World War II (in USSR called fascists) was also an important reason to leave the country for Mennonites and other Germans. Even though there were German schools in some regions of the Soviet Union, as well as German broadcast and German newspapers, they could not stop the gradual dissolution of the German identity in Russia.
Political and economical issues
Most Mennonites, probably, never agreed with the Soviet politics. The pain of confiscations, deportations, arrests, executions, and other sufferings of the last decades was too deep. There was hardly a Mennonite family that did not mourn over victims. The Mennonites did not trust Soviet governments and their leaders anymore. Economic conditions also played a role in emigration matters. People in cities and villages lacked almost everything. Though nobody experienced hunger, bread, butter, milk, sugar and other food often could only be obtained with big difficulties when not produced by people themselves. The same situation applied to clothing, furniture, household appliances and other articles.
Immigrant service organisations
The Mennonite emigrant service (Die Mennonitische Umsiedlerbetreuung) was  created by old Mennonite congregations in 1972 and  for many years fulfilled the function of helping the fresh arrivals with making a new start. Through the support of this organization, many locations for settlement in Germany were found, in many places regular church services could start, and new congregations could be organised. After Die Mennonitische Umsiedlerbetreuung finished its work, newly formed Mennonite congregations established their own immigrant service organization: the Aussiedler-Betreuungsdienst which took over all the aforementioned  functions. Since their foundation, both services welcomed and consulted more than 100.000 Mennonites or persons of Mennonite origin in the state border transit camps and entry points of federal states.