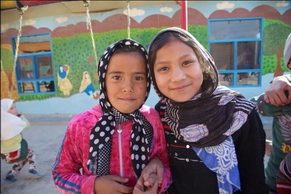 Goals and concrete examples
Author: Sylvia Shirk
The Relief Fund, founded in 1977, is the helping arm of the French Mennonites, reaching out to persons whose situation of temporary or more long-term distress has come to our attention.
Syria
The year 2013 was marked by a new action for Syria. In an email in September, the  MCC representative for Lebanon, thanks the French and Swiss Mennonites for their 'marvelous and continued support, and for your prayers for the Syrian people. The kits were received and distributed by a wide variety of churches  serving displaced people forced to leave their homes...'.
Since the beginning of the conflict, more than 3.500 hygiene kits, 200 blankets and a sum of €15.000 were shipped in two containers as far as Jordan and to Syria.  In 2013, the Swiss Mennonites joined in to fill the container with buckets.  These donations come from individual gifts.  The cost of shipping the containers (about €8.500) was covered by offerings taken at the concerts of a group of young artists from one of the churches. One congregation in the North of the Alsace handled the sorting, preparation and the shipping of the French contributions.
Afghanistan
Since its beginnings the Relief Fund has promoted a Christmas project to benefit a need that is more chronic but no less critical. This year a school project to benefit Hazara women and children of Afghanistan caught our attention.  Founded ten years ago by people who came from one of our churches, 'Le Pelican'  created its first day center in Kabul for Hazara children in 2003.  The project grew quickly and was extended to include another hundred women and girls (literacy and sewing lessons), as well as professional training in bread making and in small restaurant business, and a class in sign language two years ago.  In 2007, the Relief Fund provided for the acquisition of equipment for the bakery.
Seven years later, the donations contributed to the creation of a centre in Bamiyan, using the same model as the one in Kabul. In November, Jacques, co-founder of 'Le Pelican' died. But Ariane is not giving up. Her testimony:
The Pelican' had to position itself on this plateau where there is nothing but a poor population, without any resources:  no school, no business, no clinic, no electricity, no water ... they lack everything. So then it will be easy to help them!