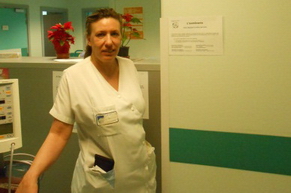 Visiting the Hospital
Authors: Jean-Paul Herzog and
Mireille Peterschmitt, Sara Herzog 
Every week, Fabienne from Strasbourg and Odile from Sélestat enter and leave hospitals or clinics in their respective towns. They go there to meet and listen to patients, families and staff who are there. In these establishments where the people experience suffering and care, grief and joy, life and death, Fabienne and Odile are hospital visitors. Their ministry is an expression of a community involvement which wishes to reach those suffering isolation: either in a single visit or through long-term support. Their visits also introduce another Visitor, the Lord Jesus Christ who accompanies them in their daily ministry.
A matter of being present
In the French hospital establishments, our visitors are complementary to other hospital staff, desiring to take care of the human being as a whole. In our French secular society, hospital visitors have to prove that they have a legitimate reason for their presence in the situations where they are. Gone are the days when it was taken for granted that Christian visitors could circulate unhindered through the hospitals and clinics. As well as being  places where people from different social classes meet, hospitals and clinics today are the meeting places of people of different faiths and religions. Visits to patients vary considerably depending on their culture and religion. Finally hospitals and clinics are also the place where many questions are asked. Today tensions can be felt in the medical field due to human relationships, technical and economic reasons. Visitors have their part to play regarding ethical discussions and they can they can sometimes guide patients to those who can meet  their needs better, maybe outside the establishment. Our two visitors have more than enough work to fill their time.
For 23 years, working with the Alsace and Lorraine Protestant Churches', chaplaincy service Compassion in Action sends, accompanies and supports salaried chaplains and several volunteer visitors. Mennonites in Strasbourg and in particular the Strasbourg Mennonite Church initiated our small charity. Neighbouring evangelical fellowships also participate. Our hearts are full of gratitude to God for his faithfulness and help, and this venture of faith and service continues today.