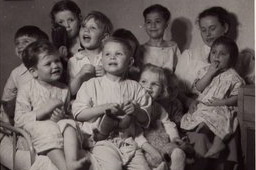 Social Services
Author: Theo Hege
As part of  the Mennonite churches of France Mennonite social services were born from the massive social action of the Mennonite Central Committee (MCC) in France which began during World War II.
Helping the disabled
In 1945-1946, its leaders urged Mennonite churches to be involved in service to the neighbour. This approach made it possible to continue the early work after the withdrawal of the MCC thanks to the creation of 'l'Association Fraternelle Mennonite' and 'l'Association du Mont des Oiseaux': the purchase of the Valdoie property to install a child institution in Valdoie, near Belfort in 1950 and, the following year, the acquisition of a second children's home at Mont des Oiseaux, near Wissembourg.  The Mont des Oiseaux turned into a home for the care of children and adults with psychological or mental disabilities.
Furthermore, the American Mennonite missionary action, relayed by the association 'Mission Mennonite Française',  began around 1953 in Châtenay-Malabry, and  founded a local  Mennonite church. At the same time, it welcomed a local initiative to care for mentally handicapped children. The joint growth of this diaconal service and evangelism didn't happen without difficulty. The association 'Les Amis de l'Atelier' was created in 1961 and then grew into a Foundation in 2011.
Support-center and foreign students
In 1966, the 'Mission Mennonite Française' initiated  the creation of  a work and accommodation support-center. Today, the association has changed its name and is called: 'Association des Institutions du Domaine Emmanuel' (AEDE). The whole of the institutions and services comes down to these figures: 91 institutions and services, 4.188 beneficiaries, 2.633 employees. Financing comes essentially  from public funds.
Also,  the 'Mission Mennonite Française' opened a residence for foreign students in 1976. It ran until 1998. In 1995, the Mennonite church of Montbéliard opened  a small emergency accommodation  facility with a capacity of 12 studios.  It is the  'Maison d'Acccueil de la Prairie'.
In 1977, at the purchase of the building to host the new Mennonite church in Strasbourg, a small residence with seven rooms  for students opened.  Today in 2014, it has expanded to 14 rooms and 9 studios.