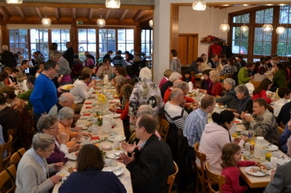 Building and construction
Author: Beate Zipperer
Translator: Anne Zipperer 
Rooms for church service, prayer and fellowship
These days it is normal that churches have their own buildings. Rooms in which the congregational life happens. It is also normal to share these rooms. But the Mennonite history there were many different kinds of places where the congregation gathered. In times of prosecution they even met in secret in caves or under big old trees, in open fields or secretly church member's houses. Later the church gatherings were in ordinary buildings like farms, houses, inns, barns, and warehouses.
Mennonites in South Germany didn't develop a typical architecture, although you can find distinguishing marks in Mennonite assembly halls and prayer houses. They were developed because the places were defined by the theology, the worship practices and also by the economical and political limitations of each church. So all these places have one essential aim: The congregation gathers there to read God's word, to hear it, to teach it and to fill it with life.
So the church celebrates baptisms and the Holy Supper together, as well as eating meals together. Based on the size of the congregation opportunities to build or rent assembly halls tailored to individual wishes can occur. Some congregations in southern Germany have their own places (Ingolstadt/Regensburg). Others are rent out space in other churches (Augsburg/München).
Not holy places
So the rooms used are not 'holy places' in and off themselves, but they are still rooms where believers can serve God and each other. The relationships between church members influence the atmosphere of the premises and show the living relationship to God. Church services and meetings in the name of Christ contribute to the significance of our church rooms.
Hospitable places as a chance for open words
In 2013 we opened our rooms to pupils of the nearby school, because it was being renovated. For three weeks they were using our rooms and in this time many opportunities for dialogues occurred. Hospitality can be an opportunity to make Jesus' message of redemption be heard again.