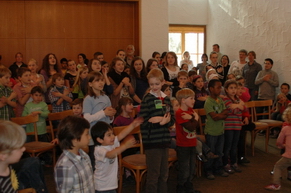 Sunday Schools, Scouting Groups, Catechism and Seminaries
Author: Beate Zipperer
Translator: Anne Zipperer 
Children
It is common to tell children Bible stories at home, but also on Sundays in church. In many churches, while the adults are having church service, the children are with one or more volunteers in Sunday school. But it isn't a real school. There are no grades, nor are the children judged by their knowledge, but rather they get to know God and together they practice how to follow Jesus. The children exchange thoughts and emotions about what they heard, and ask questions. They pray and sing together, they do handicrafts and play games.
In the 'Evangelische Freikirche Mennonitengemeinde Ingolstadt e.V.', which is our church, the children start the church service together with the adults and at a certain point in the service they go off to follow their own program. They meet in four different groups age groups to hear Bible stories and talk about other topics related to religion.
Some churches also offer weeks especially for the children. The children really like this and it gives them the opportunity to deepen their own knowledge and invite friends from school, to talk with them about faith and Jesus. In some churches you can also find a group of Royal Ranger, a Christian Scouting Group.
Youth and young adults
Nowadays in many churches catechism is called church instruction or bible instruction. These instructions do not automatically lead to baptism, but they are an opportunity to concentrate on topics regarding the Christian faith and also to look at the Anabaptist movement, and at people's own practice of faith.
In youth groups but also in church services specially geared to adolescents, young people can practice fellowship and discuss theological topics.
In addition to education in the church, the 'Jugendwerk süddeutscher Mennoniten e.V. (JUWE)' organizes retreats, schools and training courses in Southern Germany specifically  for children and adolescents.
Adults
Seminars for all ages (for example family retreats, retreats for the eldery and basic courses for everyone) broaden and enrich the education in Mennonite churches. They are either organized in local churches or in trans-regional conference centers. A good and well known conference centre is the Theological Seminary Bienenberg in Switzerland.