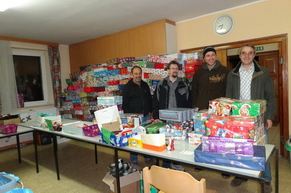 The social concern of the Mennonites
Author: Martin Podobri
Why are there so many different churches, when they believe in the same God? One of the reasons is, that some churches have a different view on the practice of religion.
Social care after World War II
One reason why the Mennonites in Austria exist is that they have a clear focus on social care. After WW II there was a large food crisis in Austria. Every Austrian only got food with 600 – 800 calories per day (today's healthy average is about 2000 calories per day), and in 1946 only 40% of the food was produced in Austria. Many social organizations brought food to Austria. One of these organizations was the Mennonite Central Committee (MCC). And so the Mennonites came to Austria. In the following years the Mennonites founded churches and this was the beginning of the Mennonite conference.
Social care today
Gerda Gewessler, the coordinator of 'Operation Christmas child', received boxes with goods from the allied soldiers when she was a child. Now she is thankful that she is in the position to give a gift to poor children and bring Christmas alive for them. Still today the Mennonites in Austria are very active in social care. The church in Linz for example is one of the largest collecting points of this Operation, by Samaritans Purse. In the year 2012 they collected nearly 4000 boxes!
Members of the church in Wels started the association 'Essen und Leben' (Food and Life). They saw that there is a need for this in their town. It has grown very quickly and now they give out food to hundreds of poor people every week. The church is also involved in the 'Christlichen Familienarbeit' (Christian family work), a mission organization, which helps families in crisis. Especially women with children who need 'a roof over their head' can find a home there.
Many of the church members in Vienna are teachers. So they give private lessons in the church and in this way they help children, especially those with a foreign background. 
These and many more things are going on. The Austrian Mennonite conference is very small. There are only 400 members in 5 churches. But a lot of social care is taking place in the conference. And this is why it is good, that the Mennonites exist in Austria.